Posted in Budget Wedding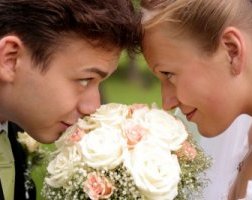 Television shows and movies feature brides planning their weddings with unlimited budgets and with absolutely stunning results – the kind of results brides-to-be aspire to. The problem is, a beautiful wedding with an unlimited budget isn't a challenge to create but most of us just don't have that much money to throw around! The good news is that a budget wedding can be just as elegant and memorable. It just takes a little thought, some careful planning and the right information at your side.
Here are some ideas to help get you started:
1. Attire
A big part of any wedding budget is going to be the attire. This includes attire for the bride and groom as well as members of the wedding party.
There are many ways to save money on a wedding gown. One is to check out the clearance racks at all of the local bridal salons. You may be able to find a sample dress for a fraction of the original price. Even if it needs a little work from having been tried on so many times, it can still result in a huge savings.
Another place to look is classified ads, such as those on Craig's List. Gowns being sold in this manner are often sold just to make room in the former bride's closet, so the sellers are not usually looking for a lot of money.
Renting a bridal gown may be another good option for a budget wedding. You may have to drive a little to find a bridal salon that rents their gowns, but it will be worth the drive. You may be able to rent a designer gown for just a few hundred dollars.
For the men, consider having the groom wear a suit instead of a tuxedo if the wedding is to be rather informal. If he is going to rent a tux, shop around for the best prices. Many rental places will offer the groom's tux free if you hire attire for the groomsmen at the same time.
2. Flowers
Some brides spend more money on flowers than is really necessary. While flowers certainly add to the overall beauty of your day, they offer a great opportunity for you to trim your costs to create your budget wedding.
Firstly, consider smaller arrangements and bouquets. This is a simple way to reduce your costs without making many changes to the overall design. Put simply – the more blooms you have, the more expensive it will be.
For the bouquets, consider something as simple as a few roses with ribbon wrapped around the stems. Some brides and bridesmaids even carry a single rose or other flower. If this doesn't appeal to you, you can always add foliage to your bouquets and arrangements to make them larger without adding significant cost.
You could also simply visit a wholesale flower shop and then create the arrangements and bouquets yourself.
Another idea is to eliminate some of the flowers altogether. You probably still want a bouquet to carry, but instead of placing floral arrangements on the altar or in the center of your tables, consider using candles instead. Elaborate candelabras can be rented for a fraction of the cost of flower arrangements and look absolutely stunning. Candles are also wonderful for creating an intimate and romantic atmosphere. This is a great choice particularly for an evening wedding.
3. Cake
Wedding cake is typically priced by the slice. Simply ordering a cake for fewer guests can save you a lot of money and keep you on track for your budget wedding.
Many guests will not even eat your wedding cake, so having fewer slices (or smaller slices) should not cause you any problems. But, if you are worried you won't have enough, order sheet cakes. They will be kept and served from the kitchen so your guests never have to know. Then you can still have the cake of your dreams and feed everyone while saving on the expense.
For example, say that the cake you like is $5.50 per slice and you are having 250 guests. Your wedding cake would cost you $1375. If, however, you ordered the cake for 150 people, the cake would be just $825. Add a couple of full sheet cakes for another $40 each and your grand total is $905. That's a saving of $470!
4. Food
Food is often the biggest single expense of a wedding and can easily run into the thousands. There are ways, however, to reduce your food expenses without making your celebrations any less enjoyable.
For example, rather than serving a full meal, consider having your wedding at a time of day when a cake and punch reception would be appropriate.
Or, if a sit down meal is important to you, have a buffet rather than a plated and served meal. This is a great choice as it allows picky eaters to be able to take what they want and, of course, it saves you money on your budget wedding.
Some brides even take on the task of preparing the bulk of the food themselves. This is not as daunting of a task as it may sound, but it can be a bit of work. Make sure that if you choose this option that you have plenty of help from members of your family and bridal party. If you can pull it off, it will not only save you a lot of money, but make your wedding day even more special because of the contributions of all your loved ones.
Your Budget Wedding
These are just a handful of ideas. There are so many more things you can do to reduce your costs without reducing the quality of your special day.
If you are planning a budget wedding, make sure you grab your copy of Erica Yoon's "Amazing Wedding Planning." She is the queen of helping you save money while still creating the wedding day of your dreams. Her book is full of insider secrets and ideas that you won't find in your typical bridal magazines and it is an absolute must-read for the cost-conscientious bride!
Remember, just because your wedding is a budget wedding it doesn't have to look cheap or tacky at all. With careful planning, a little creativity and the right information on hand, your wedding will look like a platinum wedding, but without the platinum price tag.
Click Here To Grab Your Copy Of Amazing Wedding Planning & Start Saving Now!