Posted in Wedding Dance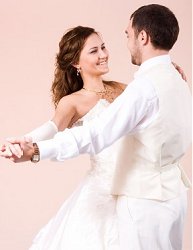 Your first wedding dance should be a special and romantic moment between you and your partner. It's one of the few opportunities you and your partner have to come together and just enjoy each other's company on your special day without the rest of the hustle and bustle of your wedding.
I'm guessing though, that you are feeling a little ill at ease with the idea of getting up and dancing in front of everyone. You are not alone. Most of us have felt that way. In fact, for some couples, preparing for that first wedding dance can be one of the most stressful parts of the day.
But, it doesn't have to be that way for you!
Your special moment should not be dampened by your fear of dancing in front of everyone and not getting everything right. But if you are nervous about taking to the dance floor, the best thing you can do is to build up your confidence before the big day and prepare in advance. So let's get started…
1. Choosing Your First Wedding Dance Song
You should choose a song that both you and your partner love, and preferably one that has a special meaning for the two of you. Having said that, keep in mind that your song should be between two and three minutes long. If you are nervous about dancing, a long song will only draw things out and make you more nervous.
Traditionally, the first wedding dance is danced to a slow waltz. Of course, this is no longer necessary, but slow songs are often the easiest (and more romantic) to dance to. Whatever you decide, make sure your song has a steady beat rather than one that changes throughout. This will make dancing a lot easier for you.
2. Start Preparing For Your First Wedding Dance Early
Not starting early enough is why many couples are so nervous during that first wedding dance. You cannot wait until a week before the wedding and then expect to suddenly know what to do and have confidence in your ability, especially if you are not particularly comfortable with the idea of dancing.
You need to start preparing for your dance at least 2-3 months in advance (preferably longer). Do not leave it until the last minute. Find a place to take lessons or learn at home with a course like First Wedding Dance. First Wedding Dance is a fun, easy and inexpensive way you and your partner can learn to dance from a professional in the comfort of your own home.
3. Take Lessons
Yes, taking the time to take lessons is absolutely worth it. Even if you are a regular at dance clubs on the weekends, your first wedding dance is different. You need some proper dance techniques to look like you know what you are doing out there on the dance floor.
As mentioned earlier, you should begin your lessons at least two months before the wedding. If you are taking classes, you should attend at least one class a week. The more classes you can fit in, the better you will be but if your schedule is busy, one class a week will still serve you very well.
Make sure you have already chosen your song prior to your first class. If you are taking one-on-one lessons so it is just you, your partner and the dance instructor, you can focus specifically on dancing to your chosen song. Or if you are taking group lessons or learning at home, you can at least work out the type of dancing you should focus on.
All brides and grooms can benefit from dance lessons. They give you such confidence for your first wedding dance that you can enjoy the moment and make it that much more special.
4. Know The Routine
You may decide to choreograph your routine during your lessons or you might just want to wing it on the night. If you do have a routine, make sure both of you practice together plenty of times so you both know the routine inside out.
Also, to avoid any awkward moments on the dance floor, both you and your partner should know exactly how you plan to enter the dance floor and what is going to happen at the end of your dance. Some couples immediately open up the dance floor to all of their guests, while others choose to invite only their parents and other special guests to join them for the rest of the first dance.
Whatever you choose should be decided in advance so that when the moment arrives you both know what to do.
5. Relax
Once you have taken your dance lessons and practiced as much as you could, you will be ready for the big moment. Even if you are still a bit nervous, it's important to relax.
Yes, all eyes will be on you, but your first wedding dance is not about any of your guests. It is special moment just for the two of you. Don't let your nerves take over and waste your chance to make a lasting memory.
Don't stress about making mistakes either. Chances are, unless you are professional dancers, you will make a couple of mistakes during your first wedding dance but so what? No one will even notice! The only thing your guests care about is seeing how happy and in love you are. So if you do make a mistake, just keep on dancing!
Your first wedding dance is nothing to fear. Just prepare as best you can by taking dance lessons and practicing and you and your new spouse will be able to create a beautiful moment you will always remember.
There are plenty of places to go to take lessons and lots of great teachers to help you prepare for your first wedding dance. If you aren't comfortable taking a dance class or it doesn't quite fit into your schedule, don't let that stop you! Get First Dance Fabulous. It's so much fun, it's simple, it's fast and it costs LESS THAN ONE professional dance lesson.