Posted in Wedding Planning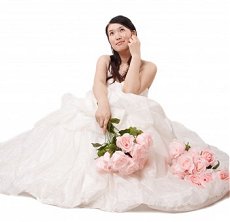 Your wedding will most likely be one of the most important days of your life but it is vital that your wedding cost doesn't get out of control. I know you've probably been dreaming about your wedding day since you were five years old and you may already know exactly what colors you want, how you want your dress to look, the flowers, candles and music you want and more.
It is only natural that you would want everything to be just perfect, no matter what the cost. But the truth is, money doesn't grow on trees and you do want to have some cash left for your honeymoon and for your newly married life. Starting your new life together in debt is not much fun.
So what should your wedding cost and is a budget really necessary?
When you look at the figures, the average wedding cost can be a little intimidating. According to market research firm, The Wedding Report, the average cost of a wedding in 2008 was $21,814. While this seems high, you'll be surprised at how easy it is for hidden or unexpected expenses to add up, giving you a figure even higher than that. That's why you need a wedding budget and you need to stick to it.
When working out your budget, try to be comprehensive and try to avoid under-estimating. Keep in mind that the average couple spends more than twice the amount that they had originally planned for their wedding.
Here are some things to consider when creating your wedding budget.
The reception takes the largest chunk of the average wedding cost at 40-50% of the total budget. This includes everything from location to food to a DJ or band for your wedding dance.
The cost of venues vary greatly. If you are getting married in your own church, you may only have to pay the cleaning fee. Other locations can charge anywhere from a couple of hundred to several thousand for rentals. Consider choosing a location that can host both your ceremony and reception. That way you only have one venue fee and your transportation costs are lower. Keep in mind that some venues require you to use their bar service, catering service and/or DJ. These may add on extra fees to the wedding cost that you were not expecting.
Count on 10% of your budget for attire. This includes clothing and accessories for the bride and groom. Don't forget to include jewelry, make-up and hair services. Generally, bridesmaids and groomsmen pick up the tab for their own attire, but you may wish to purchase jewelry for the bridesmaids that they can wear on the day as your thank you gift to them.
Flowers for both bouquets and decorations are a part of almost every wedding and range between 8 and 10% of the total wedding cost.
If you choose to hire a professional photographer and/or videographer, plan to spend at least $2,000, or 10% of the average budget. This may seem like a lot, but consider this aspect carefully. Right now, it may seem a logical place to cut costs, but these memorabilia will be priceless in 25 years time.
Other smaller expenses include:
Invitations, place cards, thank you notes and other paper items (3-5% of your budget)
Transportation (2%)
Miscellaneous items like taxes, tips and insurance (6%)
Don't forget to also purchase thank you gifts for the wedding party and table favors for your guests.
Keep track of everything you spend and categorize it appropriately. You will soon see the little costs adding up and be able to cut back when you reach the spending limits that you have set for yourself.
Your wedding cost is significant but with careful planning it does not need to be exorbitant. A well-thought-out budget will relieve your money stress and allow you to enjoy your special day. And, of course, there are always plenty of ways to cut costs without reducing the quality of your wedding or sacrificing any of the things that you dream of.
Erica Yoon can show you how to save 50-80% of your entire wedding cost without compromising on your dream, regardless of your budget. She did not hire a wedding planner and yet managed to save over $10,000 on her own wedding with a few insider secrets – secrets she wants to share with you.
If you want to know how you can reduce your wedding cost and still have your dream wedding, you need to read her "Amazing Wedding Planning" book. It's full of insider tips and tricks you just won't find anywhere else.
Click Here To Grab Your Copy & Start Saving Today!