Posted in Wedding Day, Wedding Planning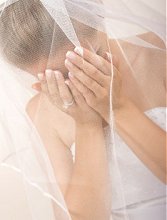 Your wedding day is a joyous celebration of love, commitment and the coming together of two lives. It is the landmark that divides your single life from your married life and the day that joins you completely to the one that you love most in the world. So why are so many weddings stressful and nerve-wracking instead of relaxed, festive and enjoyable?
A lot of wedding day dramas stem from poor or nonexistent planning and most can be avoided with a little forethought. Here are some things for you to consider to ensure that your wedding day will be everything you dream it to be.
1. Your Budget
One very important aspect to a stress-free wedding day is a carefully planned and well thought out budget. Money is one of the most common causes of stress and you don't want it to be a thorn in your side on your special day. After all, you won't enjoy eating that delicious steak nearly as much as you should if you know you had to break the bank to have it served at your reception. Similarly, losing one earring isn't nearly as tragic if the set only cost fifty dollars rather than fifteen hundred. Don't spend more than you can afford and you will be able to relax on your wedding day, knowing that you still have money left for the honeymoon and your future life together.
2. Sleep
Getting enough sleep is also imperative in the lead up to your wedding if you want to avoid wedding day dramas. Even if you are spending the night with your bridesmaids, you must insist on getting to bed at a good time. Try to get a good night's sleep every night for at least a week before the wedding so you are well rested and full of energy on your special day. If you would like to plan a late-night party, do it early enough that the lack of sleep won't affect your wedding day. Everything seems twice as frazzling and distressing if you are overtired.
3. The Big Day
Make sure you don't have a big 'to do' list for the actual wedding day. Take care of as much as you can in the days and weeks leading up to your wedding so you are not overwhelmed on the morning of your special day. There is very little other than actually getting dressed that absolutely must be done on the big day. It's very tempting to say, "Oh, I'll just pick that up on the way to the church in the morning," but don't give in! You will have enough to think about with your hair, make-up, jewelry etc so don't intentionally leave anything to clutter up your day.
4. Down Time
Make sure you give yourself time alone in the lead-up to your wedding. It is easy to get swept up with good friends, out-of-town guests and of course, your special someone. You want to spend time with everybody; catch up with old friends, get to know new ones, and carried away with the whirlwind of activity that comes along with planning a wedding. Those are all good, important, even necessary things. But you must take some quiet time by yourself. Think about the importance of the step you are taking. Take a few moments to do some calming deep breathing in the few days before the ceremony. If you are calm, prepared and collected, you will not be nearly so stressed on your wedding day.
5. The Unavoidable
Of course, sometimes things come up on the big day that are completely unavoidable – your make-up artist is running late, one of the floral displays is missing, a stray dog wanders into your reception…All of these things can happen no matter how well you plan ahead. The key is to make a conscious decision that you are not going to let the little things bother you. Instead, focus on all the wonderful things going on and remember that the day is about you and your partner declaring your undying love for each other and making a lifelong commitment to be together forever…not about how many flowers are in the room. Put things in perspective and you won't be able to take the big smile off your face all day.
6. Friends And Family
Friends and family love to help with your wedding. Appoint two people (preferably one girl and one guy) who are not members of the bridal party to deal with anything that comes up during the day. That way, you don't even have to worry about it. There will be someone else there to take care of whatever crops up.
Conclusion
Taking note of all of these factors will help you have a wonderful, enjoyable and fun wedding. You will be able to bypass any stress and frustrations that are the norm for so many brides. Not only will you be able to enjoy yourself at your wedding, but you will be starting your married life off on the right foot – happy and stress free!
Planning ahead is really quite easy and can be a lot of fun. Make sure you grab your copy of the Free WeddingDayDelights.com Checklist and a great planning guide like "Amazing Wedding Planning" and you will be all set for your special wedding day!
Click Here To Get Your Free Wedding Checklist NOW!