Posted in Wedding Planning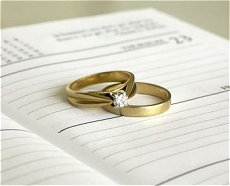 The thought of having a wedding planner to deal with and take care of all of the small details of the big day sounds wonderful. But, while hiring a wedding planner can alleviate a bit of the stress of planning a wedding, they do come at a price. In fact, a full-service wedding planner can cost $5,000 or more (25% of the average wedding cost!). Is it really worth it?
Brides are now learning that they do not actually need a wedding planner to make their big day perfect, and the money they save by not hiring one can be funnelled back into the wedding and honeymoon (or even into a new home deposit).
The job of a wedding planner is not to make decisions for you. Instead, she gives you suggestions and then, based on your decisions, contacts all of the necessary vendors and coordinates with them on your behalf to be sure everyone is where they need to be at the right time.
While the wedding planner may have a rolodex full of contacts, she doesn't necessarily do anything that you cannot do yourself.
Here are some tips on how to be your own wedding planner and save a bundle of cash in the process.
1. Make a List & Be Organized
You should get a big binder and fill it with tabs – one for every detail of your wedding. The tabs should include the wedding party, wedding gown, groom's tux, wedding party attire, ceremony venue, reception venue, colors, décor, flowers, guest list, invitations, favors, transportation, menu, cake, DJ/music, photographer, videographer, rehearsal dinner, honeymoon and any other wedding details you need.
Then, when you have any ideas or information about each detail, it gets immediately filed under the correct tab. As you eliminate ideas (for example, choosing one favor over another) you remove the information about items you will not be using.
Every detail of your wedding should be contained within that binder. Anyone you need to call, price lists, menus – EVERYTHING – should be right there at your finger tips.
When you meet with a vendor, notes about the meeting go in the binder. When you sign a contract, a copy goes in the binder. When you make a payment, the receipt goes in the binder.
Having everything in one place and knowing that you have copies of all phone numbers and contracts at your fingertips is going to greatly ease the stress of keeping all the details organized.
2. Finding Vendors
Many brides hire a wedding planner to alleviate the worry of finding vendors to carry out the various details of your wedding. It can seem a daunting and overwhelming task but finding vendors is actually quite easy and not as challenging as you might think.
You should attend at least one, but preferably more, bridal shows. It will give you the opportunity to see numerous vendors representing every detail of your wedding.
You'll be able to taste cakes, view photographer's portfolios, see various wedding flowers up close, look at sample bouquets and see many other samples of wedding related items and services. Collect business cards from anyone in whom you might be interested. Make notes on the back of the card and file it in the binder as soon as you get home.
Another way to find vendors is by word of mouth. Think of weddings you have been to in the past. Did you love the cake? Ask the bride who made it. This is one of the best ways to find vendors because you are already somewhat familiar with their work.
Of course, the good old yellow pages will also list vendors of every type. You'll want to visit those that interest you and see photographs or samples of their work.
3. Keeping Everyone Organized
While not hiring a wedding planner will save you money, it may require a little bit more of your time. For example, once the final payment has been made to each vendor, it is a good idea to check in with them in the weeks leading up to the wedding to be sure everything is still on track.
In general, you should call two weeks before the wedding. Ask if everything is going well, and if they need anything else from you. Then, you should call again two days before the wedding to verify the time they will be arriving and/or setting up.
This will, of course, involve making quite a few calls but this task can easily be divided up among your bridesmaids, trusted family members and friends.
You can be your own wedding planner with results that are just as fabulous as if you'd hired someone to do the job. And in a lot less time than you might think! Organization and having the right information on hand is the key.
Erica Yoon is one bride who managed to organise the wedding of her dreams while still working 64 hours a week (and without running around like an insane person)! She shows you how you can do the same in her "Amazing Wedding Planning" guide.
Her simple 10-Step process will guide you through the entire wedding planning experience so you can get things done quickly and easily in the shortest amount of time possible while having a wonderful time.
She'll even show you how to book all of your vendors and your reception hall in just one day! And how to save mountains of money without compromising on your dream wedding and without hiring a wedding planner.
Click Here To Grab Your Copy & Start Planning Today!