Posted in Wedding Speeches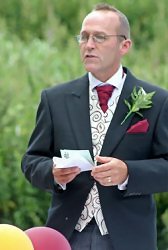 There are some people who just love the spotlight. You know the ones. Getting up in front of a room full of guests seems to come naturally to them. In fact, they seem to have a ball up there! But for most of us, the thought of standing up in front of a group of people to give wedding speeches makes us shake in our boots!
But gals, if your best friend asks you to be her maid of honor at her wedding, don't decline just because you're afraid of the speech that you'd have to give at the reception. And guys, don't turn down the position of best man just because you don't think you're funny enough to garner the laughs that others draw from the crowd.
There is help available! With a little planning and some good advice to back you up, you will be ready to step up to the microphone with confidence. Here are some dos and don'ts to keep in mind when you've been asked to give a wedding speech.
1. Think Ahead
You should know well ahead of time that you will be giving one of the wedding speeches at your friend or relative's wedding. If you put off the planning until last minute thinking you will figure out what you're going to say the night before, then you'll find yourself nervous, confused and short of things to say at the reception.
The sooner you start preparing, the better. Give yourself plenty of time and keep in mind, the week before the wedding you will probably be very busy with other wedding duties and might not have time to write your speech then.
2. What To Say In Your Wedding Speech
Noone expects you to be the best public speaker in the world or the funniest. Just think about what you want to say about your friend. Choose one or two tasteful stories to tell about them and put everything together into a short, pleasant speech that will keep everyone's interest, not make them more interested in their dinner.
If you're unsure what to say or how to say it, Wedding Speech 4U offers step-by-step guides to creating your own individual speech, whether you are the groom, best man, maid of honor, father of the bride or mother of the bride. They even have prewritten sample wedding speeches and sample toasts that you can adapt to suit you.
Click Here To Get Your Copy Of Wedding Speech 4 U Now
3. Practice Your Speech
You've heard the saying – practice makes perfect. The more you practice your wedding speech, the more comfortable you will be on the day.
Don't be afraid to read your speech out aloud. If the thought of speaking into a microphone in front of everyone leaves you feeling anxious, it's okay. A lot of people feel the same. In fact, everyone else involved with the wedding speeches probably knows just how you feel. Practicing by reading your speech out aloud is one way you can help reduce your stage fright. Simply write or type out your speech, word for word, and read it.
Practice reading it to a mirror or to a small group of friends so that you can look up occasionally and make eye contact with your audience. Don't bury your face in your notes. Notes are fine, but make sure you look up once in awhile. Reading your wedding speech off a page is much better than stumbling through, forgetting half your points and finishing feeling embarrassed with yourself.
4. Mean What You Say
Say what you mean and mean what you say. If you are honest and genuine in your wedding speeches, your audience and most importantly, your friend will be able to tell. Think of the things that most inspire you about that person. Think of a special memory you have of the two of them together as a couple. Maybe add a cute story about how they met. Throw a smile or two into the mix and a meaningful hug at the end and you'll have a wedding speech that will leave the reception guests satisfied and your friend feeling warm and special. Don't say things that aren't true or are grossly exaggerated simply because it sounds good.
5. Be Wary Of Humor
Don't force the humor. Everybody can tell when someone is trying really hard to be funny. And nobody enjoys it. You may get a few canned laughs but that's not what you want, is it? If you are a naturally humorous person, that's great; go ahead and use it (but make sure to keep your jokes and stories clean and audience appropriate).
Don't go out of your way to embarrass your friends. They may laugh along with everybody else, but sarcasm or biting humor in a wedding speech leaves a bad taste in people's mouths. If your real self is more serious, more straight-forward, stick with a genuine style. Your audience will appreciate it much more.
Wedding speeches really aren't as bad as they seem. A little forethought and a friendly appreciation for your friend are really all you need to make things go smoothly. Don't be afraid of the microphone. Use your speech as an opportunity to tell the bride and groom how important they are and how much they mean to you.
Nerves are perfectly normal, even if you have given wedding speeches before. Just make sure you plan ahead. Grab a copy of Wedding Speech 4U so that the words will flow naturally and you will know precisely what to say. The guests will be entertained, the bride and groom will love you and you will go home knowing you have given a wonderful wedding speech for two special people in your life.
Click Here To Get Your Copy Of Wedding Speech 4 U Now