Posted in Wedding Themes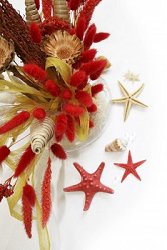 Your wedding theme is one of the first things that must be decided on when planning your wedding and will shape the entire event from your wedding gown to your decorations to your place settings.
Your wedding theme can be as simple or as complicated as you want. A simple theme may be a set of colors that remain consistent throughout the entire event. For example, if your colors were white, silver and light purple, your bridesmaids may wear light purple dresses, you might tie silver bows around your chairs and you may decorate everything with white and purple flowers.
You do not have to limit yourself to just choosing a color scheme though. Some couples like to go all out and have, for example, a medieval wedding in a castle with medieval style clothing and a medieval banquet. Or perhaps a science fiction style wedding complete with aliens and spaceships.
More than likely though, if you are looking for a wedding theme, you are looking for something a little more in between. You want something more original than just a color scheme, but probably not so out there as aliens and spaceships. You want something that makes a statement about you but still retains the sense of occasion that is your wedding.
Choosing a theme to suit you and your partner can be a little confusing and figuring out how to implement it can be overwhelming. That's where guides like Kari White's "Unique Themed Weddings – A Complete Guide To Creating Your Own Magical Wedding Day" become invaluable. Not only do they show you how to create the theme wedding of your dreams, but they make it fun too!
If you haven't chosen your wedding theme yet, here are a few ideas to think about:
1. Seasons
It is very easy to theme your wedding around the time of year in which it is held. For example, if you are having a fall wedding, you may choose rich autumn colors and use colored leaves and berries as part of the decorations. Or if you are having a winter wedding, you may choose glistening whites and silvers and decorate with snowflakes.
2. Holidays
If your wedding is close to a particular holiday like Christmas, you may choose to theme your wedding around it. Christmas weddings are very popular and may feature lots of reds and greens and use poinsettias for the decorations. Other holidays to consider include Halloween, Valentine's Day or even the 4th of July.
3. Cultures & Destinations
It is common for many couples to include elements of their own family's culture in their weddings but you can adapt elements of other cultures into your own wedding too. For example, perhaps you want an Irish themed wedding complete with Irish blessings, four leaf-clovers and lots of greens. Or perhaps you want an Asian-style wedding with Asian foods and decorations. If there is a particular international destination that you and your husband love (like Italy) why not include elements of that in your special day?
4. Occupations
In some cases, your or your partner's occupation lends itself very well to featuring in your wedding theme. This particularly applies if one or both of you serve in the military, as fire fighters or as policemen. But your occupation does not have to be so official to be considered. With a little imagination, just about any type of work can be made into a theme.
5. Hobbies & Common Interests
A common interest you and your partner share can be a great source of inspiration for your wedding theme. For example, if you are musicians, you may choose to have your whole wedding in black and white like piano keys, decorate your invitations and place cards with music notes and place a statue of two people sitting at a piano on top of your wedding cake.
6. History
You may decide to draw inspiration for your wedding theme from history. For example, you might choose and old southern wedding, complete with Scarlett O'Hara dresses and period food selections. Or you may opt for a medieval theme.
7. Flowers & Butterflies
If you are worried about having a theme that is too over the top for you, simple themes like a specific type of flower (like a rose or daisy) or butterflies will not overwhelm your day but can still be used to create a beautiful backdrop and personalize your wedding.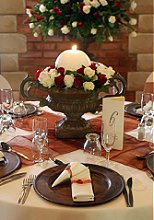 Your wedding theme is a personal choice between you and your partner. Keep in mind that whatever you choose will be immortalized in your wedding photos and videos, so make sure you both love it!
How you feature your wedding theme in your special day is also completely up to you. You can go all out or you can be subtle. It can be reflected in every single detail (like your clothes, venue, food, décor, invitations, place-cards, flowers, cakes etc) or in a few select items. Your wedding can be as elegant and beautiful or as quirky as you wish. The trick is to know how to tie your theme into your special day to create the exact effect you want.
Your theme will help you create wonderful memories on your special day, so make sure you get it right. Grab a copy of Kari White's "Unique Themed Weddings – A Complete Guide To Creating Your Own Magical Wedding Day" and let her guide you through the steps you need to take to create the wedding theme and the wedding day of your dreams.
Click Here To Grab Your Copy Today!