Posted in Wedding Video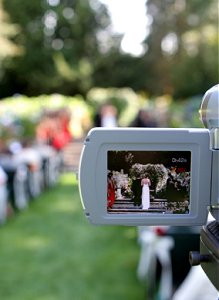 Watching a wedding video ten years down the road is something that everyone should be able to do and look forward to. Sure, right now, you can't imagine ever forgetting a single word or a look from your wedding day but be honest with yourself. You will have so many things going on that your big day will be a bit of a whirlwind and you just won't be able to remember every special moment.
You need something special to help you capture those wonderful moments that slip from memory all too quickly. This is where a wedding videographer comes in to save the day. But how important is it really to hire a professional? Will a relative with a hand-held camcorder be just as good?
Advantages To Hiring A Professional For Your Wedding Video
There are several advantages to hiring a professional videographer to take care of your wedding video. They include:
Expertise. With their training (and their expensive equipment), video professionals are able to provide you with a video that is a higher quality than anything most amateurs could produce, no matter how careful they are.
Professional Editing. Professionals generally have specialized editing programs, allowing them to add DVD menus, transitions, music and special effects. They work with these programs on a day to day basis so are much more proficient with them and can create better results than an amateur.
Multiple Cameras. Depending on the size of your wedding, you may have a team of videographers and two or three cameras, each providing different angles and points of view. The footage from each different camera is then combined with the others during editing to create one spectacular wedding video.
If you're hoping for a carefully crafted, Hollywood-worthy wedding video, then a professional is definitely the way to go.
Problems With Hiring A Professional
On the other hand, there are several disadvantages you also need to consider when making this decision. These include:
Cost. A professional charges for his/her services. Equipment is expensive and time is precious, and sometimes a high-quality wedding video may cost more than you can afford (it can easily run into the thousands). Don't break your budget on this part of your planning.
Space. A professional videographer takes up much more space than a friend with a hand-held camera. If you really don't want two or three large spidery tripods blocking people's view during the ceremony, maybe a professional isn't the right choice for you.
Time. It requires a lot more planning on your part if you want to hire a professional. You have to investigate companies, view samples, discuss costs, select music and explain what you want. You need to put in writing exactly what you want and then cross your fingers you've made the right choice. This can be an unneeded stress and distraction from the rest of your wedding planning.
If any of these are an issue for you, you are probably better off asking a friend or relative to film your wedding.
Asking A Friend Or Relative To Film Your Wedding Video
There are many advantages to having someone close to you as your videographer. They include:
Lower Cost. From a practical standpoint, it goes without saying that a relative or friend will be a much more cost-effective option than hiring a professional. They may not even charge you at all (although you should make sure you meet the cost of all expendable equipment like camera tapes and blank DVDs). But even if you do pay your amateur videographer a fee for his or her services, the cost of your wedding video will be considerably less than if you hired a professional.
Less Obtrusive. One main advantage of an amateur videographer is the fact that the whole process is much more streamlined. The simpler set-up will not be as obtrusive or distracting during your ceremony and reception and a smaller camera will not create nearly as much nervousness or stage fright in you or your guests as a large, imposing machine would.
More Personal. Having a friend or family member behind the camera can be much more fun. Not only may you feel less self conscious but that person knows you and will have a better idea of what you actually want to see on your wedding video, which guests are closest to you, who has made a huge effort to be there for you etc. It can make for a much more personal and enjoyable wedding video.
No Disputes. Hiring a friend or family member means there is much less chance for contract disputes.
Hiring a friend or family member can be a wonderful alternative to hiring a professional. However, one thing to keep in mind is how important it is to make sure that the person behind the camera doesn't mind having this responsibility on your wedding day. Some guests, particularly family members, prefer to enjoy the day without any added pressures.
If you do decide to hire a friend or family member, there are steps you can take to ensure you end up with a wedding video you absolutely love.
For example, talk to your friend or family member about their level of experience. Make sure they really do know what they are doing with a video camera. Anybody can walk around with a camera, but it requires a bit of effort to make it really look good. There are plenty of amateurs around that can turn out high-quality work. Just make sure your chosen friend or relative is one of them. Ask them if you can see other videos they have made or make a practice video so you have an idea of what to expect.
If you are worried that relying on a friend or family member will not give you the results you want, invest in a copy of Wedding Video Secrets. This step-by-step guide is an absolute treasure. It's full of easy-to-follow advice and tips from the professionals on how to plan, shoot and edit your wedding video. Give a copy to whomever you have chosen to shoot your video so they can capture your special day and give you a wedding video you will always treasure.
Click Here To Get Your Copy Of Wedding Video Secrets Now
Remember, whoever runs the camera on the day, they will be recording your special memories of your wedding so that they will stay with you forever. If you do choose a friend or relative, make sure you give them their best chance of success so that you end up with the wedding video of your dreams.
Click Here To Get Your Copy Of Wedding Video Secrets Now